Animation visual editor for all website platforms
Litemove scans your pages to create a visual editor, making it easy for you to create animation effects. Afterwards, it generates GSAP codes to apply these effects on your websites. Litemove is compatible with various website platforms such as WordPress, Webflow, Elementor, Bricks, Breakdance, Gutenberg, Web Apps (ReactJS, Vue, Angular).
Try for free
DYNAMIC FEATURES
Enhance your website's visuals with
Litemove's

dynamic features
Scroll Smoother
Enhance your website with smooth motion effects while scrolling, creating a lively and immersive experience for your viewers.
Split Text
Divide the text into separate parts and apply motion effects to each part. With this, you can create captivating effects that showcase individual words, lines or characters on your website.
Pin Elements
Enable the ability to pin an element on your website as the user scrolls. This feature allows you to effortlessly pin images or videos, ensuring they remain visible throughout the scrolling experience.
Scroll Trigger
Incorporate captivating motion effects on elements as the user scrolls through the page.
Reveal Text
Display text or images in a way that gradually reveals them, often used to introduce new features on the website.
Click, Hover Trigger
Trigger motion effects when users click or hover on an element on the website. You can create engaging zoom-in or zoom-out effects that activate when a users click, hover on an element.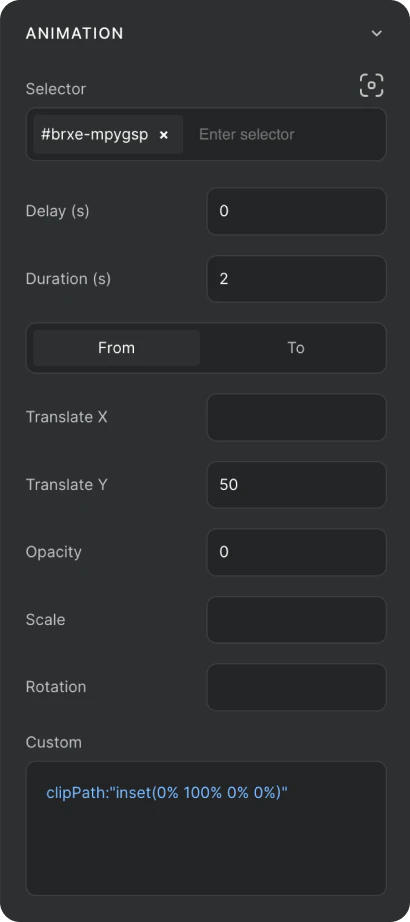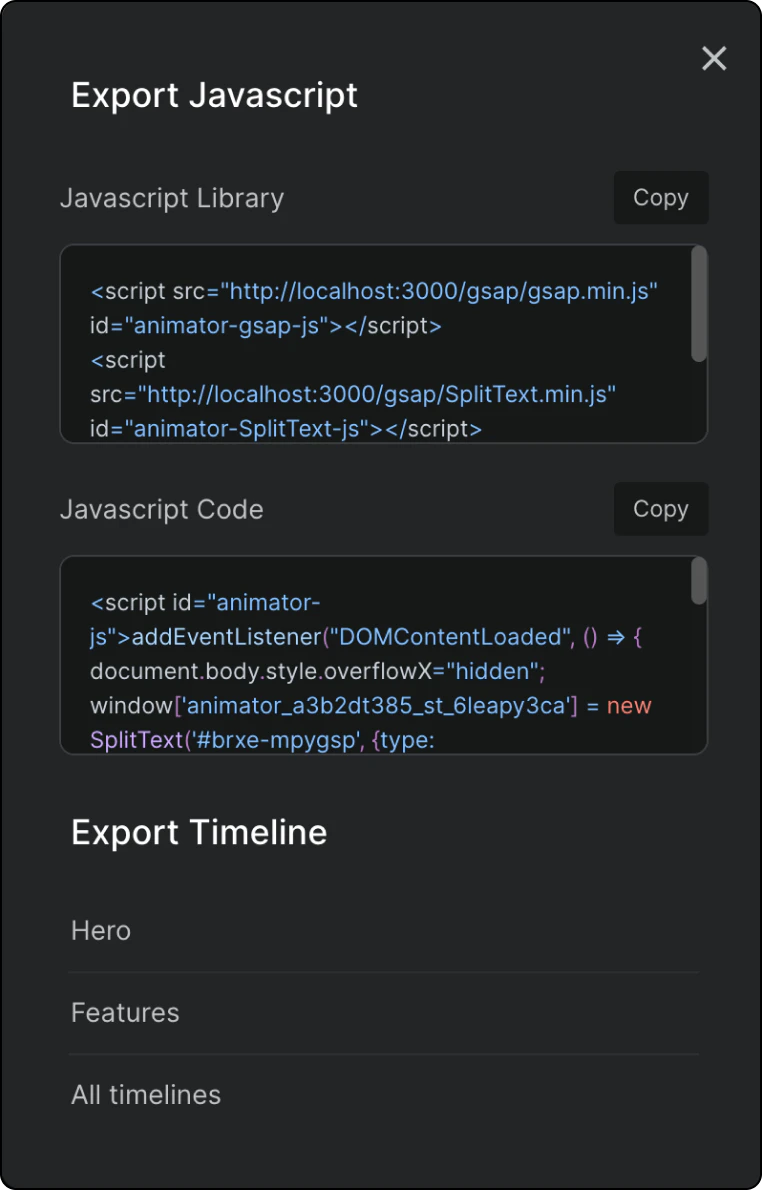 OUR SOLUTION
Generates GSAP Scripts without coding skills
With Litemove , you only need to work on the visual editor; no coding skills are required. Based on your demands, the app will generate GSAP codes for you to add to your sites.
Try the beta
Pricing plans
Explore Litemove's pricing plans and discover the right option for your website's animation requirements, from basic features to advanced customization.
Free
Experience the basic features
7 days free trial
Try now
5 sites
Advanced animation features
Per year, per an account
20% discount for other products
10 sites
Animations to the next level
Per year, per an account
20% discount for other products
Unlimited sites
Unleash your creativity
Per year, per an account
20% discount for other products

Unlimited projects (domains)
FAQs
Does Litemove offer various device modes? How about mobile, tablet?
Yes, Litemove offers various device modes to accommodate your work
How does Litemove generate the underlying code for the animations? Is it optimized and efficient?
Litemove generates minified and optimized GSAP scripts, ensuring no impact on loading speed.
What kind of support is available for users if they encounter any issues or need assistance?
For assistance, you can always reach out to us through our support systems. Please refer to our Support Policy for more information.You can always contact us from our support systems, please refer this Support Policy
Can I add my codes to customize the animation effects?
Litemove offers numerous customizable fields for entering custom codes for effects.
Are there any limitations on the number of animations or effects I can apply to a single webpage?
With Litemove, there are no limits—let your imagination run wild.
Did these FAQs help you? If not, please contact us.
Get in touch
CONTACT US
Start a conversation with us to make your great motion effects
By starting a conversation with us, we can work together to bring your ideas to life and create something truly amazing. Don't hesitate to reach out to us and discover how we can collaborate to make your vision a reality.
[email protected]